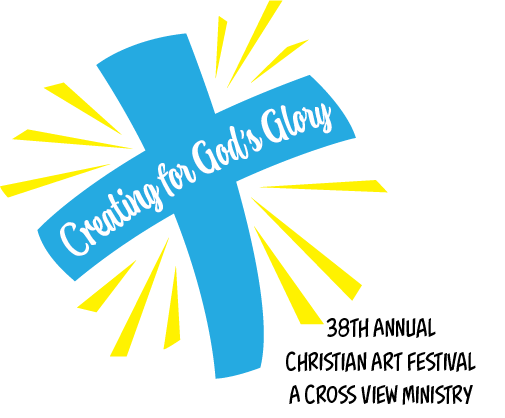 "Declare His glory among the nations, His marvelous works among all the peoples!"
Psalm 96:3 ESV
Once a year Cross View celebrates the visual arts with a month-long Christian Art Festival. Regional artists are invited to exhibit their art in our church, which is open to the public. Those viewing the exhibit will experience our Christian faith through artists using their creative gifts to visually express their faith.
After a two-year break due to a church building addition and the pandemic, we are pleased to announce that in May 2022 the Cross View Christian Art Festival is returning as we celebrate our 38th Annual Christian Art Festival, Creating for God's Glory!
Three Art Exhibits will be on display:
Cross View's Festival Art Exhibit featuring regional artists
Eden to Eternity exhibit on loan from the Sandra Bowden Collection
Culture and Faith - Art from West Africa exhibit by Togo artist Fabrice Eteka
Fabrice's paintings and the Eden to Eternity exhibit by artists from the San Blas Islands off the coast of Panama exemplify how Christian art transcends cultures and speaks directly to our united belief in Jesus, no matter what language we speak.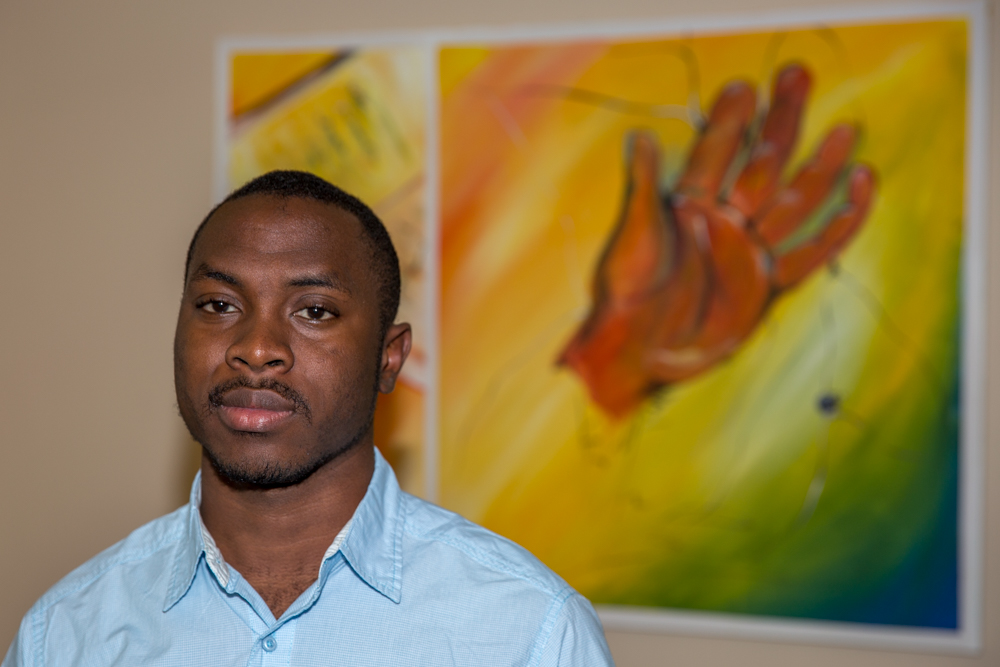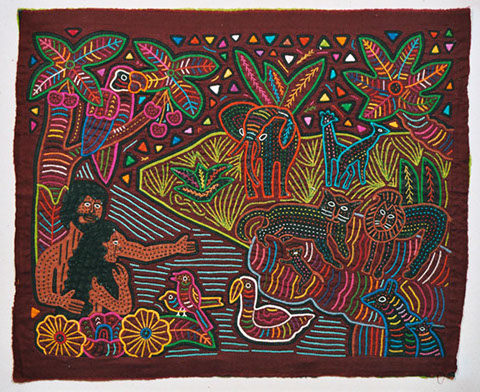 Above Left: Fabrice Eteka. Above Right: "Adam and Eve with the Animals" from Eden to Eternity.

2022 Festival Dates & Times

Public Opening Reception: Sunday, May 8
Following the 8:15 am worship service, 9:15 am to 12:45 am
Public Art Exhibit: Sunday, May 8, through Friday, June 3
Mondays - Fridays, 9:00 am – 4:30 pm
Sundays, 7:00 am - 12:00 noon
A Festival Opening Reception will be held on Sunday, May 8, 2022, from 9:15 am to 12:45 am. This reception will allow us to celebrate Creating for God's Glory and enjoy fellowship as one body in Christ with the artists that are participating in our exhibit, our congregation, and the general public as we view the exhibits for the first time. Refreshments will be served.
Art created live by artist Fabrice on Sunday, May 8, during the 8:15 am worship service, our reception, and our 10:45 am worship service will be displayed with the festival exhibit.
Guest speaker, Camden, NJ artist William Butler will share his family's story of moving from the midwest to Camden ten years ago and how his creative gifts and art are making a positive impact on the community on Sunday, May 22, at 9:30 am. https://thomaslift.com/william-butler.

Artists Interested in Exhibiting Art at the Festival

For more information about the festival and inquiries about exhibiting your art, please contact:
Sue Quist, Director of Music & Fine Arts
sue@crossview.net
952-941-1094, ext 120

Needed Forms for Artist Confirmed to Exhibit Artwork at the Festival


Art Submission Form (Online Form)

Art Identification Label (PDF)

Liability Form (PDF)