Get To Know Our Ministry Staff
Cross View staff members can't wait to get to know you, and here's your chance to learn a little about them. Who loves Lego? Which staff member's favorite Scripture verse is Colossians 3:17? Who's a Packers fan? (Hey, nobody's perfect.)
Click on the photos below to learn about each person, or use the "Select A Profile" dropdown menu to go directly to a staff member's bio.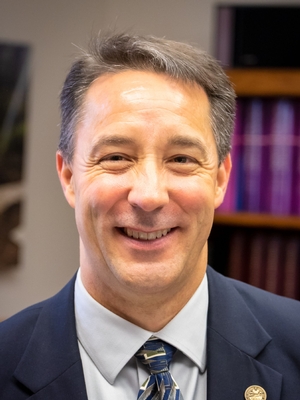 Steve Wheeler
Senior Pastor
3 FUN FACTS
1. I love to cycle (fast), both on road bikes and mountain bikes.
2. I enjoy fishing, especially in Alaska with my brother.
3. I enjoy serving as a volunteer chaplain for the Edina Police Department.
FAVORITE SONG
"Is He Worthy," by Chris Tomlin. It describes one of my favorite chapters in all of scripture: Revelation 5.
FAVORITE FOOD
Fresh Raspberry Pie prepared by my wife, Dawn Wheeler.
FAVORITE BIBLE VERSE
John 11:25-26. Those verses reveal Jesus as our source of eternal life and salvation, reminding us that we receive eternal life as a gift through faith in Him.
FAVORITE PART OF CROSS VIEW
The people are my favorite part of Cross View. Our congregation truly cares about one another and the lost of our world who need the saving message of the Gospel.
MESSAGE TO VISITORS
We are a joy-filled family that is eternally bound to one another by the love and grace of our Lord, Jesus Christ. We would love to have you come and be a part of our family.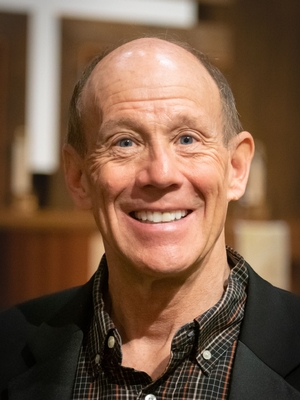 Reed Lessing
Associate Pastor
3 FUN FACTS
1. I enjoy biking, and I love to be outdoors.
2. My favorite author is Henry Cloud. He inspires me!
3. Although I was born in Denver, my favorite team is the Minnesota Twins!
BIGGEST FAITH MENTOR
Dr. Horace Hummel, my Old Testament professor from my seminary studies
FAVORITE SONG
"Who Am I," by Casting Crowns
FAVORITE BIBLE VERSE
2 Corinthians 4:5 — "For what we proclaim is not ourselves, but Jesus Christ as Lord, and ourselves as your servants for Jesus' sake." This verse has special meaning to me. Because of Jesus, I want to always serve people.
FAVORITE BIBLE STORY
The Bible story I find most inspiring is the story of Jesus' passion and his death for us. That's the heart of the Gospel.
FAVORITE PART OF CROSS VIEW
The music!
MESSAGE TO VISITORS
We welcome you here at Cross View. Come join us!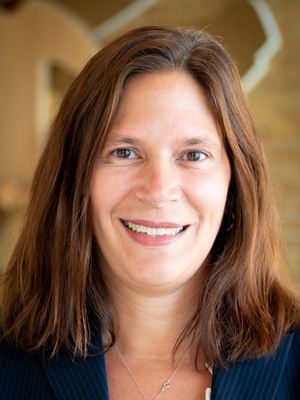 Barb Coffin
Director of Children's Ministry
3 FUN FACTS
1. I'm a former world traveler.
2. I love to exercise.
3. I'm a transplant from Virginia.
FAVORITE SONG
"Just as I am without One Plea"
FAVORITE FOOD
Anything Asian, as I lived in Japan for almost 4 years.
FAVORITE BIBLE VERSE
This is a hard one, as it changes often for me. Today, I will pick Jeremiah 29:11: "For I know the plans I have for you," declares the Lord, "plans to prosper you and not to harm you, plans to give you hope and a future."
FAVORITE PART OF CROSS VIEW
I love how we value and welcome children of all ages and really want to help develop their spiritual faith walks.
MESSAGE TO VISITORS
I can't wait to meet you and your family. Faith development is so important for children and their families, and I can't wait to start the journey together.
Stacey LaMere
Early Childhood Center Director
3 FUN FACTS
1. I love sports. I could watch/read/talk about sports all day.
2. My husband proposed to me at an ECC chapel and then we got married at Cross View.
3. Hallmark Movies are my "go-to" when I am stressed.
FAVORITE SONG
"He Is With Us," by Love and the Outcome.
FAVORITE FOOD
Vegetable and chicken soup, prepared in a Crock-Pot.
FAVORITE BIBLE VERSE
Colossians 3:17, because we should always give thanks to God for everything.
FAVORITE PART OF CROSS VIEW
The friendly people that are a part of this congregation. Also, Pastor Steve and Pastor Toby; they are great pastors that lead this congregation with love and faith.
MESSAGE TO VISITORS
Cross View is a place to help you grow in your faith walk with our awesome sermons and services and friendly faces all around.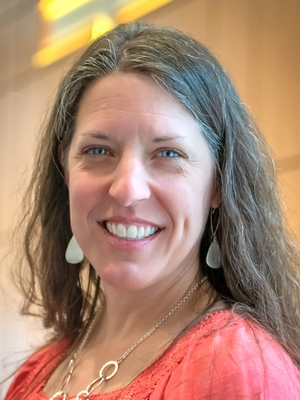 Amy Gundermann
Director of Outreach & Adult Ministries, Contemporary Worship Team Lead
3 FUN FACTS
1. I enjoy waterskiing.
2. I brew my own kombucha.
3. I'm not much of a sports fan but I will cheer like my life depends on it if a loved one is competing!
FAVORITE SONG
One of my favorite songs is 'Red Sea Road' by Ellie Holcomb. I've also been deeply blessed by music written by my husband at every stage of our lives together.
FAVORITE FOOD
Ethiopian food is my favorite treat, but I also like black jelly beans.
FAVORITE BIBLE VERSE
"In this world you will have trouble. But take heart! I have overcome the world." -John 16:33
I love the reassurance that Jesus gives His disciples (and us) in this verse, acknowledging our human experience in a fallen world while reminding us of His ultimate victory.
FAVORITE BIBLE STORY
The Bible story I find most inspiring is the story of Naaman's servant girl who encourages him to seek Yahweh's prophet Elisha for healing from leprosy in Israel. She was captured and taken as a slave, and yet she seems to genuinely want to share the good news with her captors about what God can do. Her own hardship did not deter her from proclaiming God's mercy and power. I want to be a vessel like that in my life: eager to share the Gospel of Jesus Christ with everyone, regardless of my own circumstances.
FAVORITE PART OF CROSS VIEW
I love Cross View's dedication to missional living and Biblical discipleship.
MESSAGE TO VISITORS
Blessings on your walk with the Lord. We invite you join us as we learn to follow Jesus and share His love with others!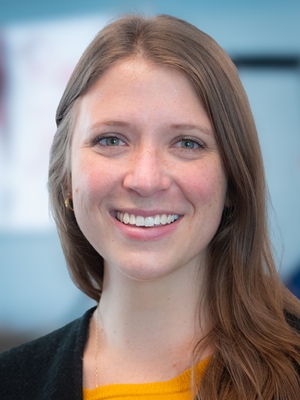 Hannah Zahrte
Director of Youth and Young Adult Ministry
3 FUN FACTS
1. I'm a third-generation church worker. My dad is a pastor, and his dad (my papa) was a pastor.
2. I've held a joey (baby kangaroo), and it was the coolest thing ever!
3. I love being outdoors and exploring God's beautiful creation! It's my goal to visit all the National Parks.
FAVORITE SONG
It really depends on the mood I'm in! I love many genres, so it's hard to pick just one song. I could have a favorite song one day and a different one the next.
FAVORITE FOOD
My mom's chicken and wild rice soup! It always warms me up on a cold winter day.
FAVORITE BIBLE VERSE
I have a lot of favorites, but the one that I always go to in times of need is Proverbs 3:5-6: "Trust in the Lord with all your heart and lean not on your own understanding. In all your ways, submit to Him, and He will make your paths straight."
FAVORITE PART OF CROSS VIEW
The people, especially the youth!
MESSAGE TO VISITORS
Welcome to Cross View! The people here are very welcoming, and we're so glad you're here with us!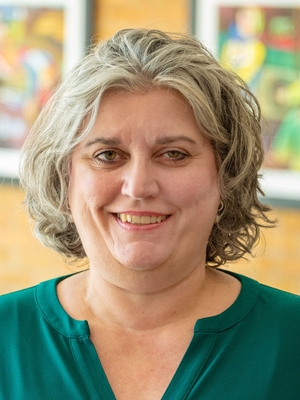 Renee Kirchner
Director of Administration


3 FUN FACTS
1. I am a first-generation American. Kirchner means "church worker" in German. (I did not know this when I picked it as a last name to honor my step-grandfather.)
2. I detest all things Pumpkin Spice—especially Pastor Toby's pumpkin spice candles.
3. My garden is my happy place.
FAVORITE SONG
I love all genres of music, and picking a favorite song would be like picking a favorite child: yes, I have one, but which one depends on the day.
FAVORITE FOOD
My mother's apple strudel. It is often duplicated but never replicated because she never wrote down a single recipe; it was all in her head.
FAVORITE BIBLE VERSE
Isaiah 41:10. This verse brings me great comfort when I am worried or troubled. When I was younger and worried about something, my grandmother would stroke my hair and tell me, "Renee, God is always with you. Never forget this."
FAVORITE PART OF CROSS VIEW
The people I am blessed to work with: the church staff, the ECC staff, congregation members, and all the people that come through our doors. This is truly a faith community.
MESSAGE TO VISITORS
Welcome to the Cross View family. We're glad you're here!
Full Staff List
| Name | Title | Contact | |
| --- | --- | --- | --- |
| Coffin, Barb | Director of Children's Ministry | 952-243-2062 | |
| Gundermann, Amy | Director of Outreach & Adult Ministries, Contemporary Worship Team Leader | 952-243-2053 | |
| Kirchner, Renee | Director of Church Administration | 952-243-2045 | |
| LaMere, Stacey | Early Childhood Center Director | 952-941-5215 | |
| Lessing, Reed | Associate Pastor | 952-941-1094 | |
| Meger, Alyssa | Finance Specialist | 952-243-2046 | |
| Portillo, Jose | Minister of Facility & Maintenance | | |
| Wheeler, Steve | Senior Pastor | 952-941-1094 | |
| Zahrte, Hannah | Director of Youth and Young Adult Ministry | 952-243-2047 | |