Current Online & In-Person Classes
Sunday Mornings

He Chose the Nails!
Sundays, February 21 – March 28, 9:30 AM
Onsite and Online
Is your heart unsettled by the chaos in our world? Are you heavy-laden? Join us as Pastor Max Lucado takes us through the last moments leading up to Jesus' death. Together we'll learn how God chose to be one of us, forgive us, invite us into His presence, love us forever, and give us the victory. John Daenzer will be facilitating this study series.
Click here to register for this ONLINE class.
Click here to register for this ONSITE class.
Membership Classes
Sundays, February 28 - May 9, 9:30 AM
Onsite
Do you want to know more about our Cross View (CV) family? Have you been here a while and want a refresher? Or do you want to join the CV family and learn how God is growing His kingdom in and through us? Check out our classes below. To register, click here. If you have any questions, contact Ann Ryan (annryan@hotmail.com).
• Sunday, February 28: Get to Know Cross View. Get a bird's-eye view and let us tell you a little more about ourselves (our history, our core beliefs, how we work together and in God's kingdom) and how you can become a member of the CV family.
• Sundays, March 7 – 28: Join the CV Family. In these four sessions, you'll learn about the core of our faith family. Get to know the heart of Cross View as you join our CV family.
• Sundays, April 11 – May 2: Go All In. In these four sessions, you'll learn how to get involved, get connected, grow, and serve with other Cross View members using your gifts and talents to serve Christ and His Kingdom.
• Sunday, May 9: New Member Sunday. You can formally become a member of the CV family and be received into membership at a worship service.

Wednesday Evenings

Hebrews
Wednesdays, February 24 – April 28, 6:30 - 8:00 PM
Onsite and Online
Join us as we learn how Jesus is more and greater than all the types and shadows that were in the Old Testament. We'll learn about all of God's promises that are now written on our hearts forever because of Jesus, the greater prophet, priest, and king. This class will be facilitated by Phil Johnson. (There is a $10 book fee).
Click here to register for the onsite and online class.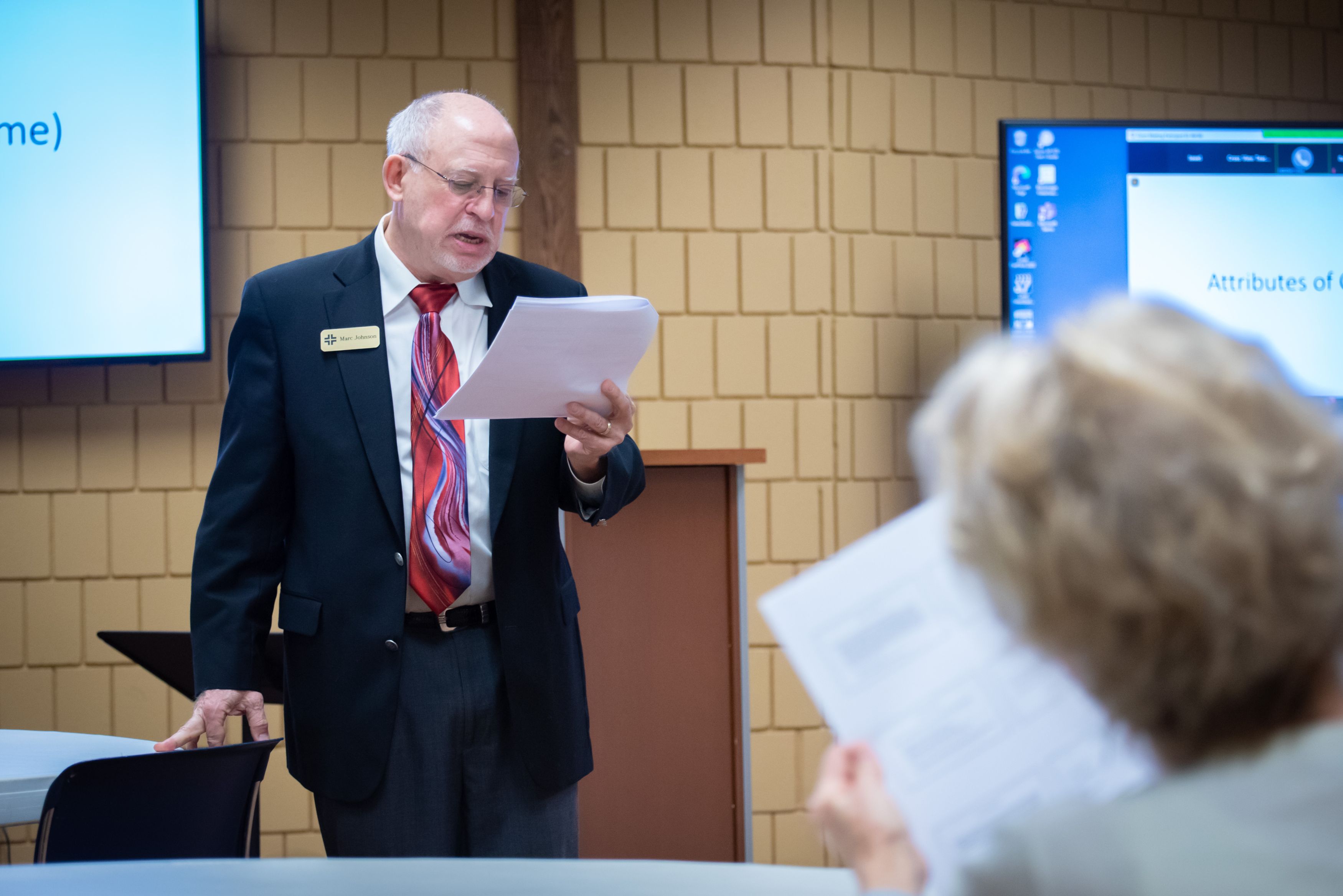 Other Classes

Ecclesiastes
Thursdays, 9:30–11:00 AM (with Chuck Daenzer)
Online
Every day bombards people with so many desires, and we wish we could pursue them all. Ecclesiastes recounts the story of one person who decided to try. He denied himself nothing that he wanted: Money. Sex. Power. Prestige. Knowledge. Experiences. He pursued them all. But what happens when we reach the end of those things? If you feel like you're racing the clock for all you desire, this strangely named book may feel surprisingly familiar. See where his desires led him and what he learned through it all. If you have questions or need information, email Chuck at cdaenzer1@comcast.net.

Women's Bible Class: Fear and Faith
Tuesdays, March 9 – April 13, 7:30–8:45 PM
Online
In this Bible study from RightNow Media, speaker/author Trillia Newbell invites women to explore their fears and how those fears impact their relationships, self-esteem, peace of mind, and walk with God. Each week's session features real-life stories of women who are wrestling with fear due to tragic events, difficult circumstances, or deep anxiety. Trillia will walk through God's Word that shows His great love and strength when we're afraid and His abiding faithfulness in times of trouble. Whatever your fear, know you're not alone or without hope in Christ! Be encouraged by the One who can calm your fears, grow your faith and give the peace your heart craves!
Contact Vicki Weber for more information by email at mvweber1@yahoo.com.
Click here to register for this ONLINE class.

Monday Women's Bible Class: A Time for Everything
First Monday of the Month (September thru May), 9:30 AM
Online
This study will meet on the first Monday of the month at 9:30 AM (except for September, when the study meets on the 14th because of the Labor Day holiday). Meetings will be on-line via Zoom because of COVID-19.
"A Time for Everything" is from the Women of Faith series, and the study is based on themes from Ecclesiastes 3:1-8. Please contact Marcy Nordhus at mpnordhus@gmail.com if you are interested in joining.

Tuesday Evening Age 18-28 Bible Study
Twelve21, a group of people ages 18-28, normally meets two Tuesdays each month at area breweries and restaurants. This group is currently meeting via Zoom. Contact Jonathan Zellar (jonathan@crossview.net) for more information about this group and this study.