Adult Bible Classes
Sunday Mornings
Money Matters
November 5-26, 9:30–10:30 AM (Rooms 209-211)
After learning about Paul's offering for the poor Christians in Jerusalem, this study undergirds the November Sunday morning sermon series on 2 Corinthians 8 and 9. Led by Pastor Steve and Pastor Reed, this class will take a decidedly practical turn to look at what the Bible teaches about earning, saving, investing, and giving money.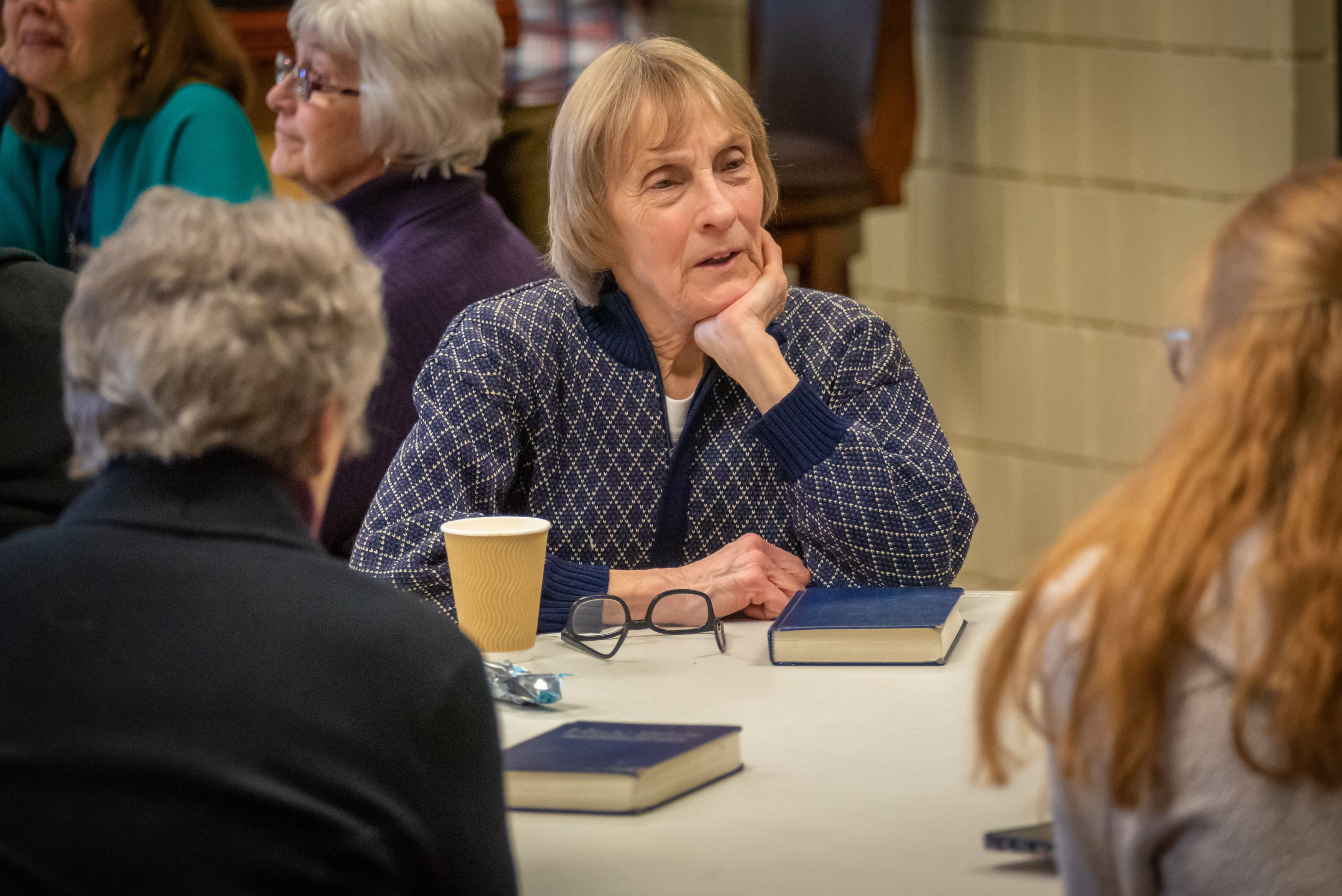 Wednesday Evenings

Community Light School of Discipleship
Wednesdays, September - February, 6:30 - 8:00 PM
Onsite and Online
Community Light School of Discipleship (CLSD) is a Bible study designed to help each of us to grow as disciples to make disciples. This free series will equip participants with the resources to "go" and make disciples wherever God has planted them. CLSD is available to Cross View members and the community at large; small groups, friends, neighbors, families, and other congregations can join us onsite, online, or on demand. Two 9-week sessions start in September and run through early February. The topic for 2023-2024 is "Hope Revealed – Revelation." Because of the online option, CLSD is open to anyone, regardless of where they live.
Go to www.communitylight.net for more details and to watch previous sessions on-demand.
The Chosen (Youth and Adult Study)
Wednesdays, 6:30-8:00 PM
Onsite
Using the video series The Chosen, this class for senior high youth and adults explores what it means to be chosen by God while revisiting the Biblical stories of Jesus' life on earth. Each week includes watching an episode together and discussing the themes. Amy Gundermann leads this class. Bring your Bible!
Other Classes

Women's Bible Study: Promised Rest
Wednesdays at 6:30 PM, starting September 13 (Room 119)
If you're in need of rest for your soul from the anxieties and worries in the world, join your sisters in Christ for a study of Promised Rest: Finding Peace in God's Presence by Michelle Diercks. This book study will focus on the different names and characteristics of God. We'll see how He keeps His promises to give us rest by offering us His name to cling to. Order your book from www.CPH.org or on Amazon. Click here to register for this class.
Jeremiah
Thursdays, 9:30–11:00 AM, with Chuck Daenzer; ON HIATUS FOR THE SUMMER & WILL RETURN THIS FALL
Online
Jeremiah served as a prophet in the most turbulent times of Israel's history. The last remnant of 12 tribes of David and Solomon's Kingdom perished. Throughout his life, Jeremiah stood alone declaring God's messages of doom. He preached about all that contributed to Judah's destruction. God's message through Jeremiah is one of judgment, and also of hope. If you have questions or need information, email Chuck at cdaenzer1@comcast.net.
Tuesday Bible Study Fellowship (BSF)

Bible Study Fellowship (BSF) for Women & Preschool Children
Tuesdays, starting September 13, 12:30 - 2:00 PM

Cross View is delighted to host a Tuesday afternoon ­Bible Study Fellowship (BSF) class for women and preschool ­children. This year, BSF will be studying "People of the Promise: Kingdom Divided." This study will unpack a fascinating period in Israel's history across 15 books, from its split into two nations, through dozens of kings and prophets and ultimately to the heartbreaking exile into Babylon.
For more than 60 years, BSF has offered free, in-depth Bible study, now serving more than 400,000 class members on six continents in more than 120 nations. The BSF Children's Program for infants and preschoolers (newborns to kindergarten-age) lovingly teaches the truths of Matthew at their age-appropriate level.
Want to learn more about BSF? Go to bsfinternational.org to see how BSF studies the Bible. To learn more about this year's study, visit www.bsfinternational.org/our-studies/kingdom-divided/. Want to hear more about the BSF Children's Program? Go to bsfinternational.org/childrens-groups.
Interested in joining this BSF class? Please email the Class Administrator, Ros Wright, at bsf.edina@gmail.com and she'll be ­happy to get you and your preschool children registered for this class.